Hisense REF286DR 286L Bottom Mount Freezer Fridge with inbuilt Water Dispenser
Multiple shelves, one temperature
The smart cooling technology maintains an even temperature throughout the entire fridge. Small vents on the back column and its sides ensure a stable environment inside the compartment, so you can place your groceries on whatever shelf you'd like.
Even cooling throughout the fridge
Locks in nutrients in food faster
Keeps food fresh longer
The ideal home for meat and fish
The chilled Room is the special upper drawer of the fridge, with a temperature just barely above freezing, and at an ideal humidity level. This preserves the nutritional value of fish and meats, keeping them fresh twice as long.
Perfect for meat and fish
Longer lasting freshness
Preserves nutritional value
Moisture Fresh Crisper
Perfect humidity, longer freshness
A dedicated fruit and vegetable drawer with an adjustable moisture system, which you can manually regulate to meet the storage requirements of different foods, in order to keep them fresh longer.
Perfect for meat and fish
Longer lasting freshness
Preserves nutritional value
Super Freeze
Get the most out of your food
Super Freeze rapidly lowers the freezer temperature freezing your food much faster than usual. This preserves the food's cellular integrity, retaining its natural taste, texture, and vitamins and minerals better than conventional freezing.
Prevents thawing
Preserves cellular integrity and freshness
Retains texture of frozen foods
Precise Electronic Control
Take complete control
The user-friendly digital control panel enables you to easily change the temperature inside the fridge or freezer and activate special functions such as the ECO or Holiday modes for saving energy, with just the touch of a button.
Incredibly precise temperature control
Extremely user friendly and intuitive design
Advanced options such as ECO, Holiday & Super Freeze
Reversible Door
Have it your way
The fridge and freezer door can be installed to open from either side by changing the door hinge, depending on your individual kitchen needs.
Adaptable to your needs
Fits any kitchen design
Low Noise
Enjoy a quieter home
With a state-of-the-art fan and built-in compressor system, these refrigerators promise a more stable performance at a lower noise level of about 38 dB, leaving you with a peaceful living space.
Easy-to-use Drawer
Never a struggle
The unique drawer clasp design makes removing and handling the freezer drawers easier than ever.
Easy drawer removal
Convenient design
Easy Open Drawer
Easy access to your frozen goods
Allows you to easy reach and store all your refrigerated and frozen goods thanks to its easy-to-open mechanism.
Easy to access
Large opening
Improved Organization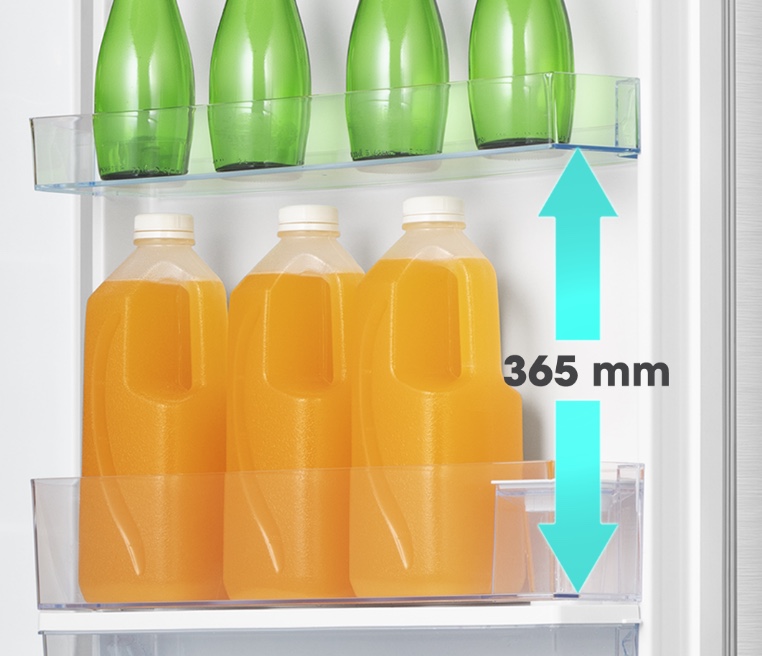 | | |
| --- | --- |
| Product Identification | |
| Description of appliance | Combi |
| Type/appliance | Combi Fridge |
| Freestanding | Yes |
| Aesthetics | |
| Door profile | Rounded |
| Handle | Recessed |
| Available colors | Titanium Inox |
| Basic Features | |
| Net capacity | 286L |
| Net capacity fridge compartment | 200L |
| Net capacity freezer compartment | 86L |
| Climate class | N=16~32°C, ST=16~38°C |
| Kind of coolant / Charge (R134a/R600a) / grams | R600a/50 |
| Freezer compartment star rating | 4 Star |
| Freezing capacity / 24 hours | 3kg / 24h |
| Max noise level | 42 dB(A) |
| Max storage time by power failure (Freezer) | 15h |
| Foaming components (R141b / C-P) | C-P |
| Certifications (CE / ISO 9001/2 / LGA etc.) | CB/GS |
| Key Features | |
| Defrosting Fridge / Freezer | Automatic / Manual |
| Control system | Mechanical |
| Frost Free (Fridge/Freezer) | No |
| Wind Air System (Active Cooling/fridge only) | No |
| Control Panel | |
| External control display | No |
| External control display with LED/LCD | No |
| Temperature range (from > to) | 0℃≤tma≤4℃, tf≤-18℃ |
| Super Cooling (Fridge) | No |
| Super Freezing (Freezer) | No |
| Over temperature alarm (Red lamp / LCD-LED / Acoustic) | No |
| Adjustable thermostat | Yes |
| Control lamps | No |
| Fridge Compartment | |
| Shelves (Number/type) | 3 |
| Color | Silver |
| Shelf (on crisper) | 1 / transparent |
| Wine rack (Number/type) | No |
| Door storage rack(s) (Total) | 4 |
| Door Water Tank | Yes |
| Inside colour | White |
| Reversible door | Yes |
| Lock | No |
| Freezer Compartment | |
| Drawer(s) | 3 |
| Shelve(s) | 0 |
| Accessories | |
| Defrost water outlet | Yes |
| Interior light | LED |
| Ice cube tray(s) | 1 |
| Eggs tray(s) / Total number of eggs | 2 / 12 |
| Adjustable feet (front/rear) | 2 / 0 |
| Castors (front/rear) | 0 / 2 |
| Length of cable / incl. plug | 200cm |
| Packing Dimensions & Loadability | |
| Unit dimensions without handle (W / D / H) | 550 × 566 × 1805mm |
| Packing dimensions (W / D / H) | 583 × 591 × 1873mm |
| Net Weight | 50,5kg |
| Gross Weight | 55kg |
| Load capacity (40HQ) | 100pcs |
| Power Supply | |
| Voltage | 220-240V |
| Frequency | 50Hz |
| Energy Efficiency Class | A |
| Energy consumption (EN153) per 24 h | 0.887 kWh / 24 h |
| Energy consumption/year | 324 kWh / year |